We just wanted to say a heartfelt thanks to everyone for the messages, cards and letters we have received in the last couple of weeks. It was very unexpected but hugely appreciated. Your support and understanding has been very encouraging indeed.
Things have settled down here thankfully although we've not achieved a great deal as we've both been hit with flu. It's typical that as soon as we stop we get ill!!
The good news is that we had 16 animals head off to their new homes last weekend which was just brilliant! It included a few people who had been here for quite some time as well. As usual massive thanks must go to Sylvia and Olivia and everyone else involved with getting the animals to their homes. They are the forgotten heroes and without them we wouldn't be able to home half as many animals.
We also have a couple of new additions. One being Onslo, a single male rat who had been living on his own for quite a while. He'd also been known to bite so hasn't had much human attention either. So he has now been neutered and this weekend we're hoping to see how he responds to some girls.
The other new addition is a bunny friend for Kitkat. She was quite depressed after Shadow died and went off her food. As luck (fate?) would have it, we recently homed a hamster to Karen who is involved with rabbit rescue locally. So I contacted her and she suggested Ginger, a six year old boy who had been looking for the right home for a few months.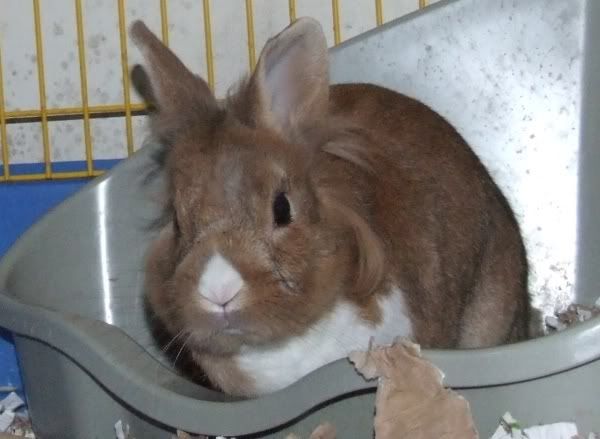 Introductions are going fairly well. Well, they're going great on neutral territory but Kitkat gets grouchy with him if they're out near their cages. Hopefully with time and patience they'll soon be able to move in together though.
So that's a little update on how things are. We hope to be back to business soon but still have a whole load of catching up to do thanks to the flu as well!